Coronavirus is a single stranded, enveloped RNA virus. The virus derive its name from Latin word 'corona' meaning 'crown'.
Coronaviruses are extensively found in tropical climates and survive best at low temperatures. A high penetration of ultra-violet radiation and increasing temperatures have negative effect on the survival of virus particles.
Coronaviruses generally cause enteric and respiratory diseases in livestock.
In cattle
Disease caused: Winter dysentery caused by bovine coronavirus (BCoV)
Symptoms: Explosive diarrhea followed by dysentery of greenish to blackish in color, drop in milk production, variable loss of apetite, depression, mild cough. The morbidity is high (20% to 50%) but mortality is low (1% to 2%). A sweet, musty, unpleasant odor emanates from the farm with infected animals.
Spread: BCoV is transmitted through feco-oral route when contaminated feed, fodder or water is consumed by the animals. Virus particles are present in respiratory secretions of infected animals and close confinement of animals increase the risk of transmission of disease.
Prevention: Isolate the infected animal. Use separate farm clothing while visiting to the farm with infected animals.
Vaccination and recovery: There is no vaccine for winter dysentery and animals recover spontaneously. Provide clean water, feed and salts to animal all the time. In severe diarrhea, IV fluids should be administered.
In neonatal calves
Disease caused: Coronaviral calf diarrhea. Although rotaviruses are the most important cause of calf diarrhea or calf scours but coronaviruses are also recognized as a cause of acute diarrhea in calves and affect calves of less than 3 weeks of age.
Symptoms: The onset of diarrhea is rapid and stays for 4 to 5 days. Causes acute electrolyte imbalance, dehydration and death. The diarrhea is seen with huge load of mucus.
Spread: Through contaminated feed and water, respiratory and fecal aerosols.
Prevention: Isolation of infected calves from healthy ones. Provide optimum colostrum to calves for boosting immunity among them.
Vaccination and recovery: Bovine rotavirus and coronavirus killed vaccine has been developed which is given to healthy pregnant heifers and cows so that in-utero immunity to the developing calf can be provided.
Aseptically administer 2 ml vaccine intramuscularly (IM). Primary Vaccination: Administer 2 IM doses approximately 3 weeks apart to pregnant cows, with the second dose given 3–6 weeks before calving. Revaccination: Revaccination with a single dose 3–6 weeks before each subsequent calving is recommended. Recovery depends on the status of electrolytes loss. Rehydrating the animal with IV fluids should be practiced.
In sheep and goats
Evidences show that the spillover of bovine coronavirus has developed disease in sheep and goat. The viruses has also been reported to cause disease in wild ruminants including wild goats. However, coronavirus have reported to cause diarrhea in small ruminants like sheep and goat, young ones being most affected. MERS-CoV has also been isolated from sheep and goat in northern parts of Africa. However, goats are used to harvest antibodies against canine coronavirus.
In pigs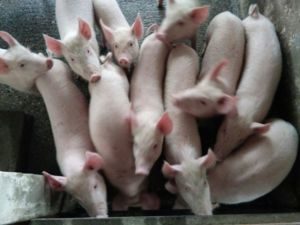 Disease caused: Transmissible Gastroenteritis (TGE). Although pigs of all ages are affected but fatal for young pigs.
Symptoms: In piglets with less than 10 days of age, the first sign is vomiting followed by profuse diarrhea, excessive thirst, weight loss and dehydration which leads to death in 2 to 5 days. In adult pigs, there may be diarrhea, vomiting, failure to gain weight, depression but the mortality is very less.
Spread: The infected pig is the source of infection. The sows may release the virus in milk thus infecting suckling piglets. Both intestinal and respiratory spread of disease has been reported. The virus also spreads through aerosols. Limit the skeletal manpower in the farm as it also spread through fomites.
Prevention: Administration of swine immunoglobulins have reported to be beneficial. Further, feeding piglets with colostrum optimizes the immunity. The virus can be eliminated from the farm by following complete depopulation using 'all-in, all-out' strategy.
Vaccination and recovery: The vaccine for particular disease has not been developed yet. The recovery depends on the age of the animal, older animals can be saved with supportive therapy but younger piglets succumb to the virus.
The other diseases caused by coronavirus in pigs are
Porcine coronaviral encephalomyelitis: The virus gain entry through respiratory tract and enter brain of the animal through peripheral nerves. The young piglets reduce feed intake, vomit and show diarrhea. Later on they cry and show paddling movements towards any noise followed by stiff gait and paralysis of hind limbs.
Porcine Epidemic Diarrhea (PED): This coronaviral diarrhea affect pigs of all ages. Watery diarrhea is the only evident symptom seen and the spread of disease is slow. Large hogs are mostly seen with watery diarrhea. The disease can be limited by following 'all-in, all-out' strategy and complete depopulation.
Porcine Respiratory Coronavirus (PRCv): PRCv is a coronavirus very closely related to TGE and can be isolated from the lungs of infected pigs. Transmission is by direct contact and aerosol, the disease spreads rapidly within a herd once introduced. Symptoms include reduce feed intake, reluctance to move, laboured respiration and fever. An experimental vaccine has been produced but none are available commercially.
In horses
Disease caused: Equine Enteric Coronavirus (ECoV)
Symptoms: Fever, lack of appetite, depression, colic, laying down frequently and diarrhea (may or may not be present). During advanced stage of disease dehydration, neurologic signs (such as lethargy, depression, loss of body control) secondary to an excess of ammonia in the system, recumbency that can progress to an inability to stand and death can be seen.
Spread: Through feco-oral route, when feces from an infected horse is ingested by another horse. The virus can also be transmitted when horses make oral contact with surfaces or objects that are contaminated with infected feces. Stalls, muck forks, manure spreaders, thermometers, hands, and clothing are common fomites (objects or materials that carry infection). Coronavirus is most commonly diagnosed in the winter months.
Prevention: The best method of prevention is to maintain high standards of sanitation in all equine facilities and carefully disposing of manure where it cannot contaminate pastures, paddocks or drinking water. When cleaning surfaces that may be contaminated with feces, clean the surface first to remove all traces of organic matter, then disinfect.
Vaccination and recovery: There is no vaccine to protect horses from Equine Coronavirus infection. The recovery rate is good with primary treatment based on the clinical signs. Severe cases may require hospitalization for IV fluid treatment or treatment for secondary infections.
In camels
Disease caused: Middle East Respiratory Syndrome (MERS) or Camel Flu
Symptoms: Symptoms include fever, cough, shortness of breath and diarrhea.
Spread: From direct contact, aerosols and fomites. Dromedary camels are believed to be involved in its spread to humans but the mechanism is unknown. Spread between humans typically requires close contact with an infected person.
Prevention: Isolate the animal. It is always preferable to quarantine the animal and the medication can be provided in controlled environment. Wear a particulate respirator, eye protection, long sleeved gown, gloves and impermeable gown before examining or treating an animal.
Vaccination and recovery: There is no vaccine for camel flu and recovery is poor.
For any type of query related to animal husbandry, you can ask us by clicking 'ask a question' or 'contact us' option. For receiving a soft copy of any article, mail us at [email protected].
If you want to write an article or share your experience related to animal husbandry with other farmers, write your article and email it to [email protected].
If any student of veterinary science or veterinary doctor wishes to publish an article with us, then write your article and email at [email protected]. You can send your articles in Hindi, Punjabi, Urdu or English.