"We should be good guests on earth, neither too demanding nor disturbing its delicate balance. We should allow it to renew itself for those who are to follow."
– Indira Gandhi, Former Prime Minister, 1983.
What is climate change?
Climate change is a global threat presently faced by mankind. Global climate change involves relatively abrupt change in weather patterns around the world including rising temperature, irregular and unpredictable wind and rainfall. Though natural change in climate is unavoidable and is slow and adaptable for the ecology, the accelerated climate change can be attributed to anthropogenic contribution. As a result, it is abnormal, difficult to adapt, life threatening and rapid and needs to be avoided. Irregular rain, dry spells, widespread forest fires, urban concrete flooding, declining marine ecology and high rising temperature are the effects of accelerated climate change.
What is food justice?
Food is an indispensable part of our lives. It is the source of energy, nourishment and good health. Food justice is the right to grow, promote and catering to the health, economic, cultural and social needs of the society.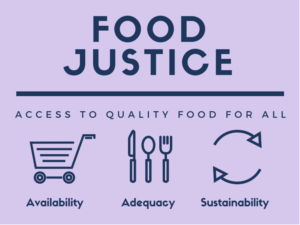 A majority of economies across the globe being agrarian inevitably agriculture is the main source of Gross National Product. It is the staple source of income for the population. Rearing livestock and animal husbandry mostly constitute small scale businesses and are at best bonus to a farmer's income. The burgeoning population across the globe meets its food requirements from animal sources too. Poultry industries, abattoir and slaughter houses cater to the daily requirement of meat and eggs across towns, cities and villages. With the present world bluntly divided between huge consumerism and ethics, cracking the cognitive dissonance to fight against climate change is the need of the hour.
How to achieve food justice in agriculture and allied sectors?
Fighting climate change by securing food justice can be achieved through undertaking mitigation strategies to reduce farm and livestock related green house gases (GHGs), regenerative agriculture, reduce livestock pasture grazing, improved healthy food habits and lifestyle, optimizing the physiology/morphology of livestock to reduce enteric methane through nutritional interventions, decrease rampant deforestation, stop nutrient pollution of water bodies, increasing the potable ground water table, zero food wastage and increase solar power.
The way forward
Animal agriculture is a global industry. The principle of 3Rs' in the context of food production and consumption – Reduce, Reuse and Recycle can build a sustainable environment. Raising animals for food, slaughter and processing requires tonnes and tonnes of water and fuel energy resources which can be diverted to agricultural lands for growing large scale organic fruits and vegetables. Since charity begins at home, organic kitchen garden in our homes should be the basic simple lifestyle lesson. Encouraging local grown crops from such seasonal kitchen gardens pave a long way Growing climate resilient food crops seasonally through different agricultural techniques prevent also biodiversity loss. Smart crops helps fight climate change but also reduces stress.
Fortifying the large scale production of cereals as a major alternate to animal protein sources enhances food security. Zero food wastage removes global hunger, poverty and starvation. Shifting to free range egg production, integrated crop-livestock system, clean milk production, ban on wildlife wet markets, encouraging agro-forestry, foggage farming, empowering local farmers and producers can improve food choices globally. There is a lack of basic understanding that conscious efforts can only improve climate even on an individual level. Prevention of animal cruelty, correct and ethical food habits and lab grown cell based meat can be the new normal to fight against global climate change. A gradual paradigm in the lifestyle is the answer. As earthlings we have power to change the world by ethical consumerism and understanding the United Nations Sustainable Development Goals (SDGs).
As Lil Dicky (Earth) rightly puts it –
"We love the earth, it is our planet.
We love the Earth, it is our home."
Authored By
Dr. Smruti Smita Mohapatra, Ph.D. Scholar
Department of Veterinary Physiology, Faculty of Veterinary & Animal Sciences, WBUAFS, Kolkata, West Bengal- 700037, India. (E) [email protected].
For any type of query related to animal husbandry, you can ask us by clicking 'ask a question' or 'contact us' option. For receiving a soft copy of any article, mail us at [email protected].
If you want to write an article or share your experience related to animal husbandry with other farmers, write your article and email it to [email protected].
If any student of veterinary science or veterinary doctor wishes to publish an article with us, then write your article and email at [email protected]. You can send your articles in Hindi, Punjabi, Urdu or English.