Pigs are found and raised all over the world and provide valuable products to humans, which include pork, lard, leather, glue, fertilizers, medicines, etc.
Besides providing products of immeasurable worth, pigs can also  transmit diseases to humans and contrariwise is also true, known as Zoonotic diseases.
What is Zoonotic Disease?
A Zoonotic disease is one that can spread between animals and humans. Many people interact with animals in their daily lives,  both at home and away from home. Animal provides food, fiber, livelihood, travel, sports, companionship and education for the people across the globe. However,  animals can sometimes carry harmful germs that can spread to people and cause illness,  these are known as "Zoonotic diseases "or "Zoonosis".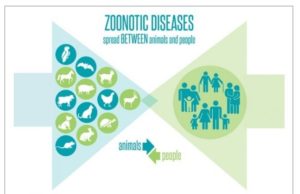 Zoonotic diseases are caused by harmful germs like viruses, bacteria, parasites and fungi, leads to different type of illnesses in people and animals, ranging from mild to serious illness and even death. Animals can sometimes appear healthy even when they are carrying germs that can make people sick.
How do diseases spread?
Infections disease can be transmitted by following ways:
By air
By direct or indirect contact (with another person or animals, skin or mucous membranes, saliva, urine, blood & body secretions)
By contaminated food and water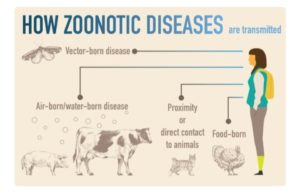 Important Zoonotic Diseases Transmitted by Pigs 
Erysipelas
Gastrointestinal infections
Influenza
Hepatitis E
Ringworm
Leptospirosis
Streptococcosis
Erysipelas
Causative agent: Erysipelothrix rhusiopathiae
Clinic signs in swine: fever, anorexia, red diamond shaped patches.
Clinic signs in humans: Erysipeloids – painful, red purple swelling on the hands.
Lesions are usually confined to the hands and fingers. Severe cases can progress to systemic infection with endocarditis.
Route of transmission: Direct contact (usually through cuts in skin)
Gastrointestinal infections 
Cause of disease: Salmonella spp., E. coli, Campylobacter spp. Yersinia enterocolitica, Cryptosporidium parvum, Giardia intestinalis, Balantidium coli
Clinical signs in swine: diarrhea
Clinical signs in humans: nausea, vomiting, abdominal pain, diarrhea
Route of transmission fecal contamination
Hepatitis E
Cause of disease: Hepatitis E virus
Clinical signs in swine: none
Clinical signs in humans: mild fever, anorexia,  nausea and vomiting, lasting for a few days. Abdominal pain, itching, jaundice, with dark urine and pale stools and slightly enlarged, tender liver
Route of transmission: fecal contamination
Influenza
Cause of disease: Influenza A virus
Clinical signs in swine: fever, depression, cough, discharge from nose or eyes, sneezing, difficult breathing, anorexia
Clinical signs in humans: fever, lethargy, lack of appetite, cough, nausea, vomiting and diarrhea
Route of transmission: direct, aerosol, fomites
Ringworm
Cause of disease : Dermatophyte fungi
Clinical signs in swine: crusty, dark, hairless patches, common on the skin around the head and neck, thorax, flank, behind the ears, on the legs 
Clinical signs in humans: local itching, reddish skin, and hairlessness at the point of contact
Route of transmission: Direct and fomites
Leptospirosis
Cause of disease: Leptospira spp – a spirochaete bacteria.
Clinical signs in swine: body weight loss, anorexia, abortion, still births, fever, diarrhea and generalized neurological signs
Clinical signs in humans: fever, chills, headache, muscle pain, vomiting, liver and kidney failure
Route of transmission: Direct, aerosol, fomites, urine spread
Streptococcosis
Cause of disease: Streptococcus suis
Clinical signs in swine: depression, tremors, incoordination, blindness, paralysis, convulsions and paddling of legs
Clinical signs in humans: meningitis, sepsis, endocarditis, arthritis, hearing loss and skin lesions
Route of transmission: direct contact
Preventive Measures 
To reduce pathogen exposure following basic hygiene and sanitation practices should be practiced:
Prompt treatment or disposal of infected pigs
Adequate disposal of infected tissues
Proper cleaning of contaminated sites
Proper use of personal protective equipment like masks, gloves, apron etc.
Health education
Personal hygiene
Protective clothing
Immunization
Regular testing
Reducing the contact potential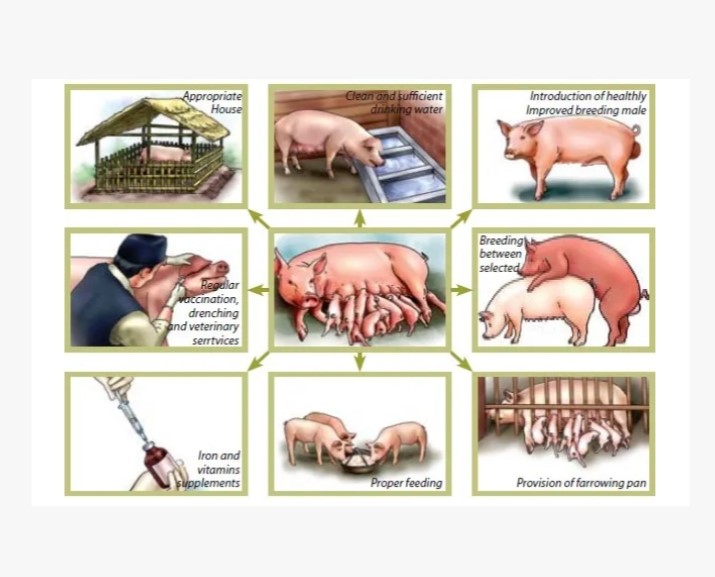 Biosecurity
Biosecurity is the protection of livestock from any type of infectious agents – bacterial, viral, fungal or parasitic. Hygienic practices should be followed in pig farm as biosecurity measures to prevent transmission of disease:
Hygienic feed and water
Limit visitors in the barn
Limit the access of rodents and other wildlife animal in the barn
Do not allow any ill person to enter the barn
Quarantine pigs arriving at the farm for 14 days
Clean and disinfect all the equipment between uses
Give proper interval between two successive crops
Authored By
Dr. Anmol Yadav
ANDUAT, Ayodhya, Uttar Pradesh, India
If you want to write an article or share your experience related to animal husbandry with other farmers, write your article and email it to [email protected].
If any student of veterinary science or veterinary doctor wishes to publish an article with us, then write your article and email at [email protected]. You can send your articles in Hindi, Punjabi, Urdu or English.
For regular updates