The earliest coronaviruses were discovered were an infectious bronchitis virus in chickens and two in human patients with the common cold (later named human coronavirus 229E and human coronavirus OC43). Coronaviruses were found to be causing diseases in livestock since early 1970s.
Coronaviruses are extensively found in tropical climates and survive best at low temperatures. A high penetration of ultra-violet radiation and increasing temperatures have negative effect on the survival of virus particles. Coronaviruses in humans vary significantly in terms of fatality with MERS-CoV being most fatal to common cold virus being relatively harmless.
The zoonotic risk is however present with coronaviruses of animal origin.
Coronavirus infection in pets
In cats
Disease caused: Feline Infectious Peritonitis (FIP)
Symptoms: It is a slow progressing disease with course of one to several months. Affected cats show fever, chronic weight loss, depression, reduce feed intake, gradual abdominal enlargement, difficulty in breathing, vomiting and diarrhea. In later stages, partial paralysis, convulsions and blindness can be seen. The abdominal cavity contains as much as one liter of yellow and viscid fluid.
Spread: Cats become infected through ingestion or inhalation of virus-containing feces or through contact with contaminated fomites (e.g., litter boxes, mutual grooming, housing, personnel). Vertical transmission from infected queens to kittens does occur. Virus may replicate in oropharyngeal tissue, resulting in transient (hours to days) salivary shedding.
Prevention: Ingestion of virus-contaminated fecal particles should be prevented as much as possible. Fecal contamination of the environment can be minimized with sufficient litter box numbers, daily litter box cleaning, weekly litter box disinfection, and clipping/cleaning fur from the hind end of long-haired cats.
Vaccination and recovery: Felocell FIP (IN) (manufactured by Zoetis) is for intranasal (IN) vaccination of healthy cats of 16 weeks of age or older as an aid in preventing feline infectious peritonitis caused by feline infectious peritonitis virus (FIPV). Felocell FIP (IN) contains an attenuated, temperature-sensitive (TS) strain of FIP virus propagated on an established feline cell line. The vaccine is freeze-dried to preserve stability. The recovery in this case is good with supportive and early treatment.
In dogs
Disease caused: Canine Coronaviral Diarrhea
Symptoms: Depression, loss of appetite, vomiting, acute diarrhea of yellow to orange color varying from soft to watery (may also contain blood) and fever (occasionally) with mild respiratory problems. Puppies may exhibit severe diarrhea and dehydration, and are most at risk of developing serious complications with this virus.
Spread: Overcrowding and unsanitary environment favours the spread of coronavirus. It can spread through contact with oral secretions or contact with infected feces. Coronaviruses are fairly resistant and can remain infectious for longer periods outdoors at frozen temperatures.
Prevention: Avoid exposure of young puppies to potentially contaminated environments. Maintain hygiene and proper sanitation in the kennels. The infected dog must be isolated and quarantine measures should be undertaken.
Vaccination and recovery: The need for routine vaccination is questionable, although inactivated and modified live virus (MLV) vaccines are available for at-risk populations. Nobivac® Canine 1-Cv is a killed virus vaccine manufactured by Merck Animal Health Solutions to protect against canine coronavirus. The initial dose may be given at 6 weeks of age and a second, required dose is given 2-4 weeks later. Annual revaccination with one dose is recommended. Recovery of the affected dogs is good but grave in case of puppies.
Coronavirus infection in poultry
In chicken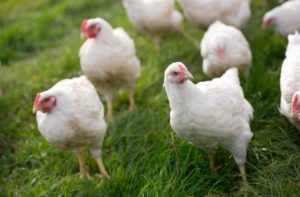 Disease caused: Infectious Bronchitis (IB) or Avian Infectious Bronchitis
Symptoms: Only the chickens are naturally infected with respiratory form being the most severe. Signs include gasping, rales, sneezing, watery nasal discharge, facial swelling. The reproductive tract of the birds also gets affected which causes damage to oviduct thus reducing quality of eggs. Eggs may be misshapen, smaller, lacking symmetry with depigmented, wrinkled and thinner shells. The renal form of the disease which is seen in broilers leads to excretion of white feces due to excessive urates.
Spread: Method of spread is airborne or mechanical transmission between birds, houses and farms. Airborne transmission is via aerosol and occurs readily between birds kept at a distance of over 1.5 m. Prevailing winds might also contribute to spread between farms that are separated by a distance of as much as 1,200 m. Mechanical transmission of virus is via personnel, material and equipment, and plays a role in transmission of IBV between flocks or farms. Movement of live birds, either as one-day-old chicks or as adult birds, should be considered as a potential source for the introduction of IBV
Prevention: Overcrowding of the poultry farm should be avoided. Supportive antibiotics upto first week of age of birds should be provided in case of broilers. Maintain hygiene and strict biosecurity measures. Practicing 'all-in, all-out' strategy for containing the disease. There should be a gap of atleast one week before introducing a new flock into the farm. Fumigate the farm before setting up a new flock.
Vaccination and recovery: The only practical means of controlling IB is vaccination, which is routinely used throughout the intensive poultry industry. Live and inactivated vaccines are used. Vaccination programmes and procedures may differ from one country to another, or even from one farm to another within the same country, depending on local conditions. Generally the vaccine is provided to birds in drinking water at 24 to 48 days of age and revaccination is done at 40 weeks in case of layers. The recovery is not so good and depends on the number of organs involved.
In turkeys
Disease caused: Turkey Bluecomb Disease or Coronaviral Enteritis of Turkey
Symptoms: Loss of appetite, constant chirping, weight loss, depression, uneven flock growth and watery diarrhea. The sick birds show darkening of head and skin.
Spread: Spread is mainly through feco-oral route as the virus is shed in feces. Bird to bird spread through fomites and aerosols have also been reported.
Prevention: Ensuring complete biosecurity in the farm.
Vaccination and recovery: Vaccines conferring protection against turkey coronavirus infection have not been developed for commercial use since de-population remains the major method to control this infection. Recovery depends on early detection and supportive treatment of the birds.
For any type of query related to animal husbandry, you can ask us by clicking 'ask a question' or 'contact us' option. For receiving a soft copy of any article, mail us at [email protected].
If you want to write an article or share your experience related to animal husbandry with other farmers, write your article and email it to [email protected].
If any student of veterinary science or veterinary doctor wishes to publish an article with us, then write your article and email at [email protected]. You can send your articles in Hindi, Punjabi, Urdu or English.